Vous êtes ici : CHAD / Version française / Publications / Ouvrages individuels
Publication (fiche article uniquement)

,
Religious Minorities in Christian, Jewish and Muslim Law (5th - 15th centuries)
Publié le 20 juin 2017
–
Mis à jour le 20 juin 2017
J. V. Tolan, C. Nemo-Pekelman, N. Berend, Y. Masset (eds.)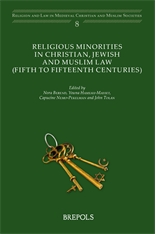 The fruit of a sustained and close collaboration between historians, linguists and jurists working on the Christian, Muslim and Jewish societies of the Middle Ages, this book explores the theme of religious coexistence (and the problems it poses) from a resolutely comparative perspective. The authors concentrate on a key aspect of this coexistence: the legal status attributed to Jews and Muslims in Christendom and to dhimmīs in Islamic lands. What are the similarities and differences, from the point of view of the law, between the indigenous religious minority and the foreigner? What specific treatments and procedures in the courtroom were reserved for plaintiffs, defendants or witnesses belonging to religious minorities? What role did the law play in the segregation of religious groups? In limiting, combating, or on the contrary justifying violence against them? Through these questions, and through the innovative comparative method applied to them, this book offers a fresh new synthesis to these questions and a spur to new research.
Sommaire
Mis à jour le 20 juin 2017